Wild Cameramen at Work - What can wild camera do?
The variety of different application scenarios is great. Wild cameras can be used to monitor the garden by the house or the allotment garden, for example. Why is the bed constantly trampled, who has eaten the salad again? After evaluating the memory card, you know which animal visit is to blame. The cameras are suitable for foresters and hunters for observing game and for monitoring special forest areas.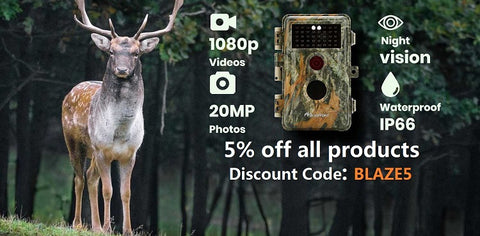 A wildlife camera should either be attached directly to the ground or higher up, for example on a tree trunk. So it is not immediately recognizable by both animals and humans.
A wildlife camera is a special type of surveillance camera that photographs and / or films moving objects. Wildlife cameras work independently because they are operated with rechargeable batteries or batteries. Our test candidates are usually equipped with eight AA batteries. Advantage: Wildlife cameras can also be used in the most remote places, such as in the forest or in the allotment garden, where there is no power socket.

Typically, a wildlife camera can last several weeks without having to change the batteries. It is not possible to give a blanket statement, because the power requirement depends on various factors and settings. How often is the camera activated, does it only take individual photos or does it also record longer videos? If you don't feel like changing batteries regularly, you should look around for a model that can be connected to a solar panel.
For camouflage, wildlife cameras are placed in robust plastic housings with a camouflage look, which rain, snow and wind cannot harm. The assembly is carried out using straps on tree trunks or on the forest floor.
---