Specifications
Package
Warranty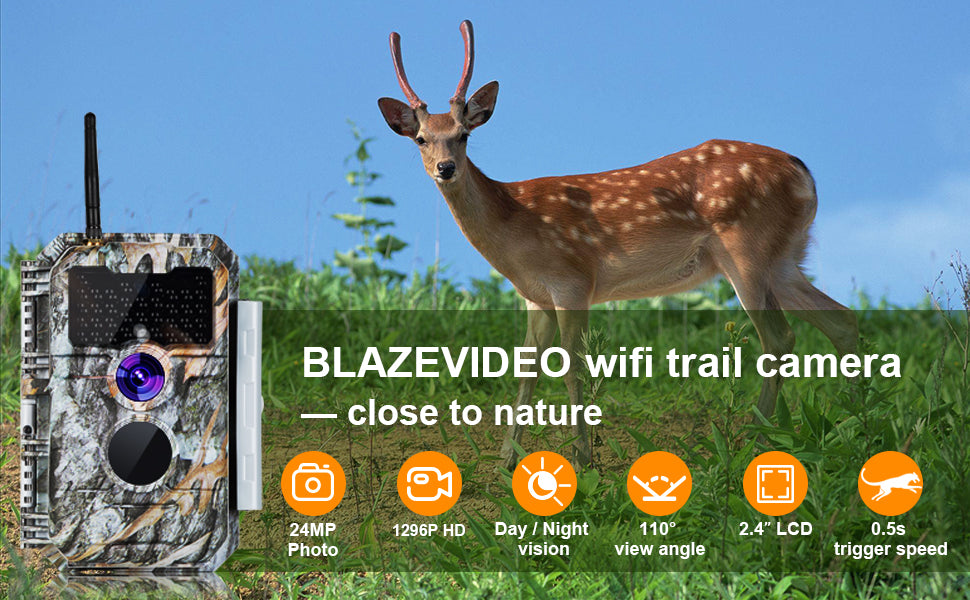 1. Unique wireless WiFi & Bluetooth Connection:
low-power-consumption Wi-Fi and Bluetooth technology and comes with a free and easy-to-use APP, allows you to operate your cameras through cell phone and send pictures from trail camera to your phone to view easily. No monthly fee. No remote control is required. All you need to do is stay within the Wi-Fi signal range.
2. 24MP Still Image and 1296P Video:
Featuring a premium optical lens with wide 110° view angle and distortion correction technology, and a cutting-edge image sensor capturing crystal clear, perfect 24MP pictures and HD 1296P H.264 MP4 videos.
3. Fast Trigger Speed & Long Trigger Distance:
Fast 0.5 second trigger time motion activated and total 110° detection angle (When side motion sensors enabled), and up to 23M/75ft long trigger distance (below 77°F/25°C at the normal/high sensitivity level), you won't miss anything.?
4. Support 256GB SD Card:
The wifi bluetooth trail camera support 256GB SDHC SD card(not included), with large capacity SD card, you can store many pics no need to worry deleting pics or videos in time.
5. Flexible Settings & Excellent Functions:
3 modes available (photo only, video only, photo + video), Loop recording, Temperature/date/time/moon phase imprint, Serial number for identifying multiple camera, Time Lapse, Timer for setting working period, Password protected. Extremely long in-field battery life (in standby mode) up to 8 months with 8*AA batteries (not included in package).



What You can Get from W600 WiFi Trail Camera
24MP Sharp Image and 1296 HD Video
Compared with traditional trail camera, W600 can catch 24MP Sharp images and 1296HD H.264 video, allows you to enjoy the wonderful animal world through super crystal pictures and fluent videos. At the same time H.264 MP4 format (average ~1MB/s), significantly reduce file size, downloading and sharing to family or friends is more quicker than traditional game cameras.
No Glow Night Vision Up to 75FT/22M
Adopted upgraded 940nm infrared technology keeps your camera imperceptible at night, smart infrared illumination technology, advanced optical lens, image sensor combined to ensure clear night vision(Black and White). No blur and no wash-out. Built in 36pcs high efficiency infrared LEDs, the night vision distance can up to 75FT/22M.

Record with Audio
With a small built-in microphone, the video supports the sound recording, which makes video more vivid and easy to watch. You can also select to close it in the Menu, if you don't hope to record the sound. But I believe it is very magic that you can watch the animals' activities and hear the voice from wildworld.
Support 256 GB SD card-Not Included
W600 can support 256 GB SDHC or SDXC Regular memory card, the common trail cameras in the market generally just supports 32 GB sd card.

2.4" LCD Display Screen
2.4" Color Display LCD, It is easy for the user to view all the photos directly on the trail camera. Fast delete the photos that unwanted.
110° Wide View Angle
The trail camera has 110° Wide View Angle lens, it will ensure you seeing more wildlife activities.
This wireless camera can only connect to the smart phone, it cannot be connected to other networks or your home router. If you want to buy a camera that can connect cellular and want see what the camera captures, or send photos to your smart phone from miles away from your home, please choose another cellular camera.
Product Specificaitons
WiFi: 2.4GHz 802.11 b/g/n.
Bluetooth: BLE5.0,Signal Range Limit of Bluetooth Technology: 33ft (10m)
APP System Requirements: IOS 9.0 or later, Android 7.0 or later
VideoFormat: 2304x1296@20fps(16:9), 1920 x 1080P@30fp(16:9), 1080 x 720P@30fps(16:9)

Picture: 24MP, 20MP, 16MP, 8MP, 4MP,2MP
Trigger Speed: 0.5s
Recovery Time: 0.5s
LCD: 2.4" Color Display
Video Length: 3s-5m
Trigger Interval: 0 sec.-60 min, Programmable
Shooting Numbers: 1~5
Info Strip: On / Off
Trigger Time: Approx. 0.5 seconds
Time Lapse Interval: 2 Seconds~ 24 Hours
Power Supply: 8x1.5V AA Batteries (Not included)
Operation Temperature: -4~140°F/-20~60°C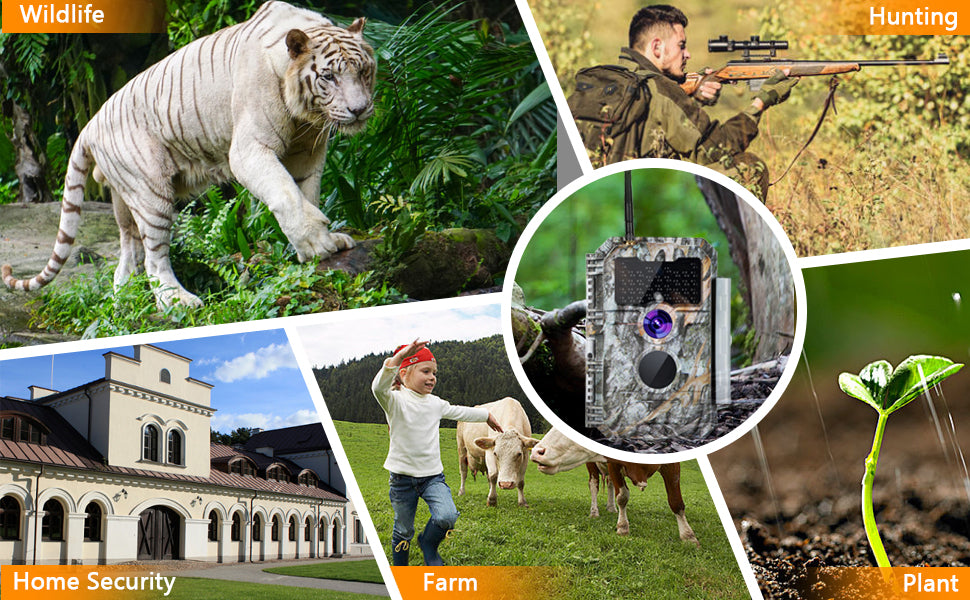 What's in the package?
You will find into our Blaze Video package, your: 2-pack Wireless Bluetooth WiFi Game Trail Deer Camera 24MP 1296P Video with Night Vision No Glow Motion Activated for Wildlife Hunting & Home Security | W600
It come with:
x2 W600 Winter Forest Trail Camera(s)
Instructions Manual - in English
Mini USB cable
x2 Strap(s)
Not included:
More questions about our Camera, go to our Technical FAQs
---
When to use your Trail Cameras ?
Our Game Cameras can be used in many cases due to their highly flexible specifications: powered by battery, waterproof and best-in class camouflage. So feel free to use them everywhere and everytilme you need them.