Specifications
Package
Warranty
Warm Tips: 
1. Please remove the protective film from the lens if there is residue, please clean it with the dish liquid soap or alcohol in case affecting the photos or videos' effect.
2. Please format the memory card in the camera before use.
3. Please Fasten the camera at a height of 1-2 meters and align the camera parallel to the ground in the desired direction to avoid overexposed.
3. As for reserve battery life, Max 30s for every video can be recorded at night.
4. Trail camera will power off automatically in 5 minutes while no keypad controlling.
You can Get Them from Agitato Trail Camera
24MP Clearer Image + 1296P Sharper Video Resolution
The trail camera captures 24 Mega Pixel crystal images and full HD 1296P videos,providing more high-quality details during daytime(black and white at night).You could easily see the vivid world of wildlife, Video in H264 MP4 format which can be easy shared to Youtube or Facebook or display in most player.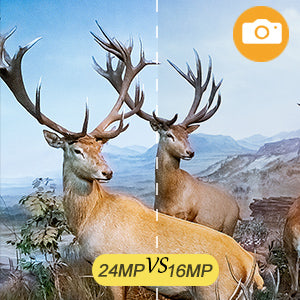 24 Sharp Daytime Photos
Compared with any other 16 megapixel device, Agitato A280 trail camera featuring 24MP(optional pixels: 24MP,20MP, 16MP, 12MP, 8MP, 4MP, 2MP) resolution, allows you to enjoy the wonderful animal world through super crystal pictures.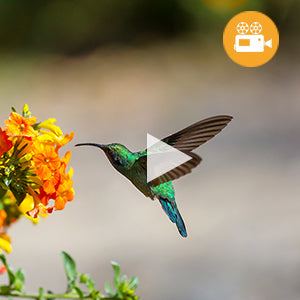 1296P H.264 Video
Records more smooth 1296p 20fps video Videos are well compressed in H.264 MP4 format (average ~1MB/s), significantly reduce file size, downloading and sharing to family or friends is more quicker than traditional game cameras. The MP4 video is also best compatible with any players.
Fast Trigger Speed & Long Trigger Distance
Fast 0.1 second trigger time motion activated and total 120° detection angle (When side motion sensors enabled), and up to 30M/100ft long trigger distance (below 77°F/25°C at the normal/high sensitivity level), you won't miss anything.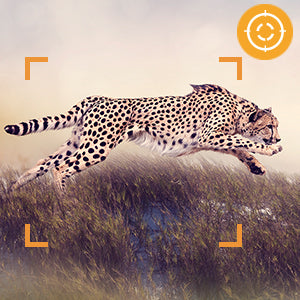 0.1 Fast Trigger Speed
Pre-activated and fast-boot technology combined to reach ultra-fast 0.1s trigger speed and 0.5s recovery time, quickly capture every exciting moment.
3 continuous shots at default per trigger to capture more exciting moments.

Excellent Sensitivity and Night Vision with 3 PIR The scouting camera will detect movements of wild animals as soon as they enter the detecting range. With 3 passive infrared sensors, the high-sensitive camera detect and record every breathtaking motion with lower power consumption. The 36pcs upgraded infrared LEDs without bright flash can let you catch any moment even at dark night.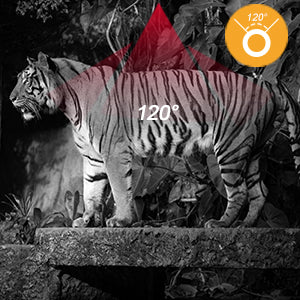 120°View Angle
The trail camera has a wider view angle at 120 degree compared the other trail cameras. 120-degree detecting range allows your to catch the excellent moment of the wildlife.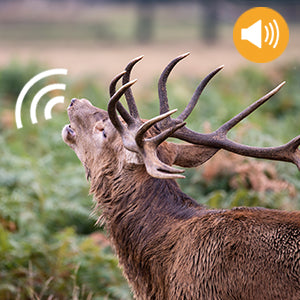 Sound Record
The trail camera bulit in an omni-directional high- sensitivity microphone, records wildlife animals like deer, duck, bird sounds clearly.
IP66 Waterproof & Reliable
 With reliable, sturdy mechanics design and multi-levels waterproof design and manufacturing, this trail camera can achieve IP66 waterproof(dust-proof, drop-proof and rain-proof), and perform in kinds of environment like desert or tropical rain forest throughout the seasons for hunting or security surveillance or wildlife observation.
IP66 Waterproof
With reliable IP66 waterproof design, allows you to safely place it in the jungle or other places to work, without worrying about the interference of dust and rain.

Flexible Settings & Excellent Functions 3 modes available (photo only, video only, photo + video), Up to 256GB SD card (not included in the package), Loop recording, Temperature/date/time/moon phase imprint, Serial number for identifying multiple camera, Time Lapse, Timer for setting working period, Password protected. Extremely long in-field battery life (in standby mode) up to 6 months with 8*AA batteries (not included in package).

Technical Specifications
Photo Size: 24MP, 20MP, 16MP, 12MP, 8MP, 4MP, 2MP
Video Size:
2304x1296: 20fps;
1920×1080: 30fps;
1280x720: 30fps;

PIR Sensitivity: High/Normal/Low
PIR Sensing Distance: 100ft/30m (Below 77°F/25°C at the Normal Level)
PIR Sensing Angle: 120°
Video Length: 3sec-5min
Camera + Video: photo, video, photo+video: Take picture firstly then video)
Time Stamp: Date, Time, Moon Phase, Temperature
Time Lapse: 1Sec~24 Hours
Operation Temperature: -4~+140°F/-20 ~+60°
SDHC SD card and Batteries Not Included
1. SDHC SD card is needed but not included in the package. SDHC SD cards up to a capacity of 128GB are supported. SDHC SD card (Class 10 up to 32GB) is recommended.
2. Camera powered by 8X1.5V AA alkaline batteries but not included in the package.
3. Support External DC 12V power supply, but at least 1.5A

Pay Attention to
if the camera can not turn on after inserting the batteries, please pull out the batteries to re-insert or change new batteries for another try.

please adjust a longer interval times if you do not want too many motion pictures.

please use lithium batteries in low temperature to get the best performance. To get the best night image, please eliminate obstacles in front of the camera as possible.

please do not use the trail camera in the extremely cold or hot weather or the camera can not work in proper, the suitable temperature is -4~+140°F/-20 ~+60°C
What's in the package?
You will find into our Blaze Video package, your: Trail Game Deer Cameras A280 24MP Photo 2304x1296P Full HD Video 100ft Night Vision No Glow 0.1S Trigger Motion Activated Waterproof
It come with:
x1 Premium Winter Forest Trail Camera(s)
Instructions Manual - in English
Mini USB cable
x1 Strap(s)
Not included:
More questions about our Camera, go to our Technical FAQs
---
When to use your Trail Cameras ?
Our Game Cameras can be used in many cases due to their highly flexible specifications: powered by battery, waterproof and best-in class camouflage. So feel free to use them everywhere and everytilme you need them.