Specifications
Package
Warranty
Camera Features
Technical Specs
Product Details
Photo and video mode
High quality 24MP photos and 1296p HD videos
120° PIR-sensor and Trigger time between 0,1s - 0,6s
27m night vision & 940nm glow-free infrared
IP66 Waterproof, password protection & Time Lapse Features
Easy to use with rush view on Camera or PC & Mac
Camouflage & Stealth Design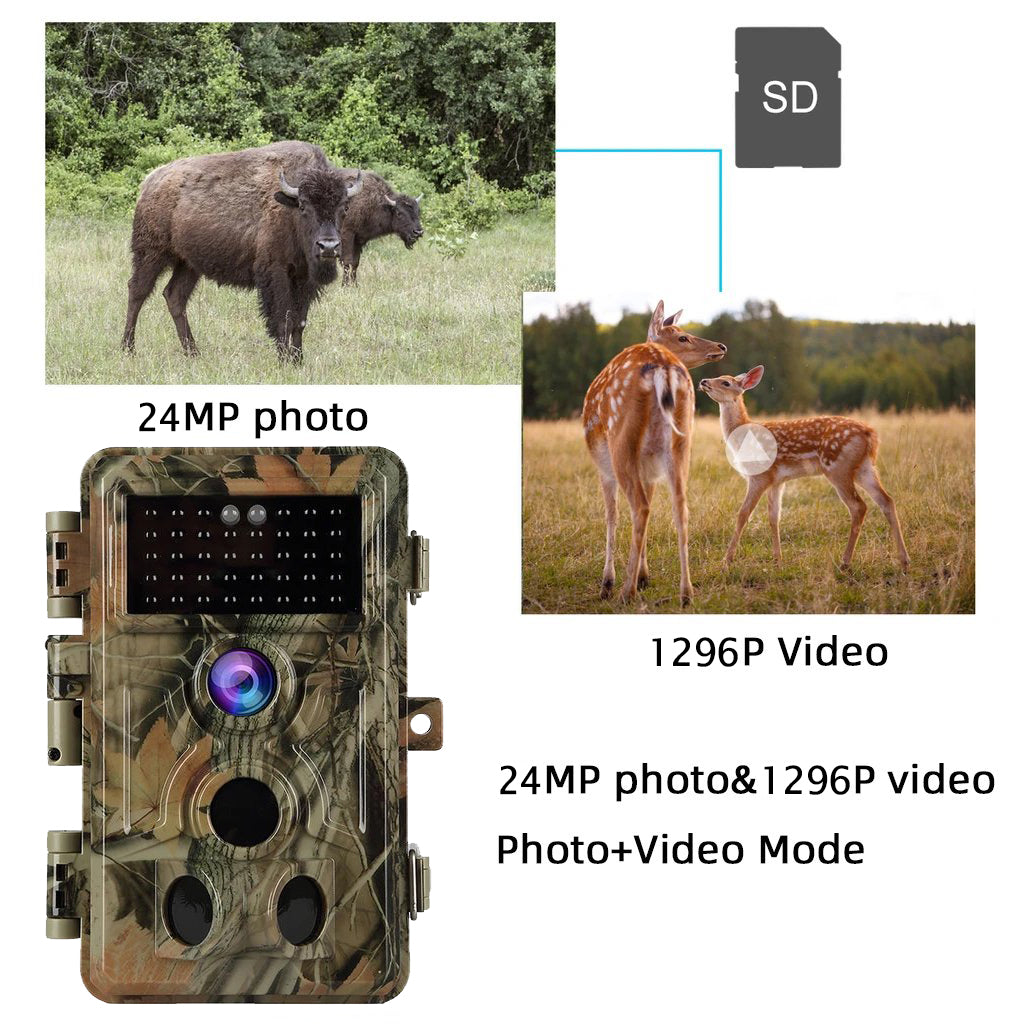 Full HD Video & 24MP Photo
HD Image & Video and PIR Function
Three optional live working modes – Camera only, Video only, Camera + Video. In "Cam + Video" Mode, the camera takes both pictures and video at every trigger event. It can first take photos and then shoot videos afterward. Select whether still photos or video clips are taken.
Get every details
High-Quality 24MP Still Photos and HD 2304*1296P Video
Capture max 24MP images and 1296P videos when motion detected (monochrome at night). Select the desired resolution for still photos from 2 to 24 megapixels and video resolution(pixels per frame). Higher resolution produces better quality photos but creates larger files that take more of the SD card capacity.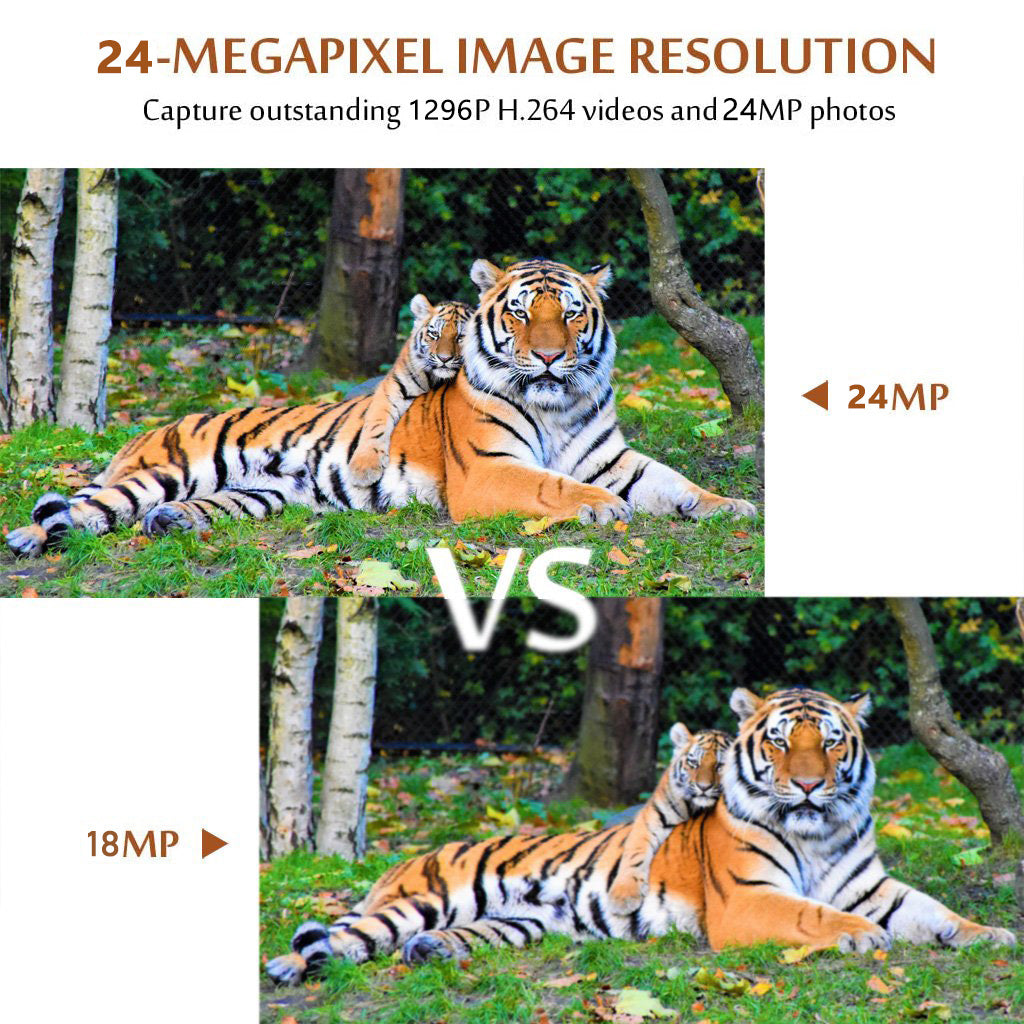 Time Lapse:
Trail hunting camera takes pictures/videos at specified interval automatically and constantly, which is useful when observing cold-blooded animals like snakes and the growing process of plant, flower, birds nest. When monitoring certain point like parking or yard. This feature can be used with Timer to meet your timetable.
Wide Angle
120°PIR Motion Activated Detection & 0.1-0.6S Trigger Speed
Fast trigger time in 0.1-0.6 second, 120° PIR sensor angle, wide view angle 90°. Clear night vision, up to 90ft/27m distance. Long trigger distance up to 90ft/27m(below 77°F/25°C at the Normal Level). The camera is equipped with 36pcs built-in high-efficiency infrared LEDs that function as a flash(invisible to human eyes), delivers clear photos or videos(in black & white).
Password Set and Serial Number function
This game trail camera allows you to set up a password to protect your camera from unauthorized users and the Serial Number function enables you to code locations in the photos. The Serial Number function helps multi-camera users identify the location when reviewing the photos.
Ready to face Nature
IP66 Waterproof & Password Protection
With reliable, sturdy mechanics design and multi-levels waterproof design and manufacturing, this trail camera can achieve IP66 waterproof(dust-proof, drop-proof, and rain-proof), and perform in kinds of environment like the desert or tropical rain forest throughout the seasons for hunting or security surveillance or wildlife observation.​This game trail camera allows you to set up a password to protect your camera from unauthorized users.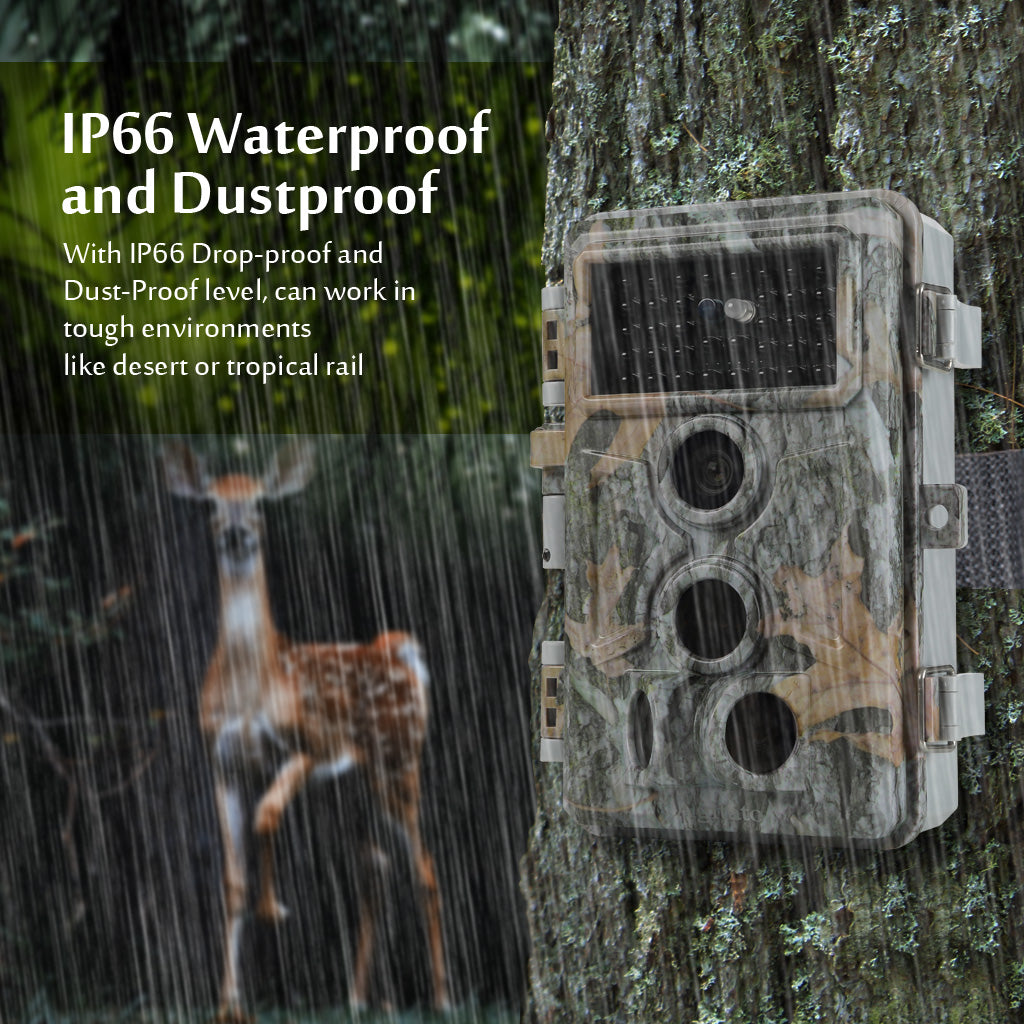 Easy to set
Time-Lapse Features
The camera takes pictures/videos automatically and consistently at specified intervals, which is very useful when observing animals such as snakes, or the growth process of a flower... This feature can be used with a timer to suit your schedule.
Large Keypad to make it easy to set up
Easy to Use and View on Camera/PC
With the TV remote style keypad, and user-friendly UI designed, unique button design, embedded 2.4-inch LCD color screen built-in, simple menu/settings, using standard SD card slot, the trail came is easy to operate and program. With the multi-functions keypad as shortcut and screen prompt, you can directly playback/review/manage the photos or video what you have.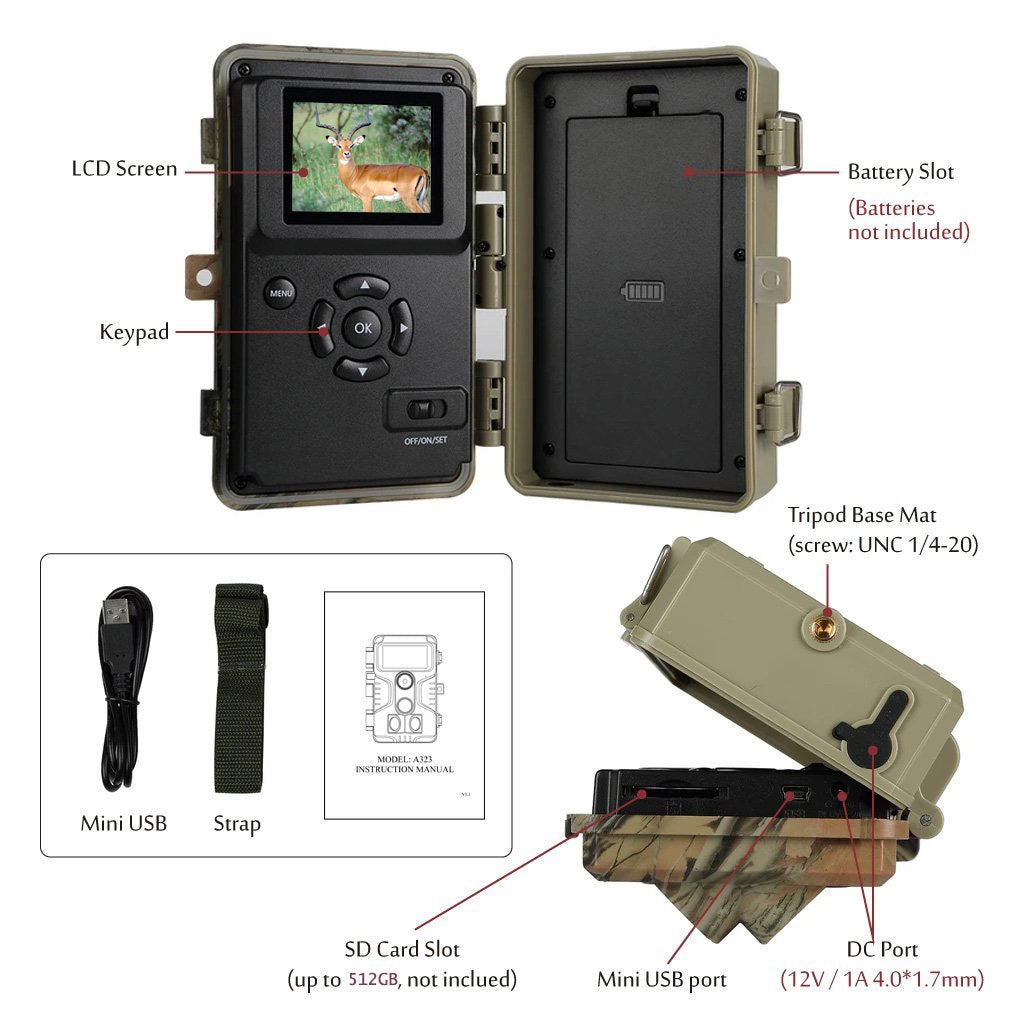 Camouflage & Stealth Design Trail Camera
Camouflage design makes the camera stealth for wildlife observing and researching of wild animals; ideal for riding, camping and exploring as sport camera, even role as a security camera for home and office.
The camera you always needed
Multi-functional Application
This camera can be used to observe the wildlife around you and take great pictures, it can also be used as a tracking camera for your hunting sessions, but also as a surveillance camera for your home, garage...
(Note: Night videos are limited to a maximum of 30 seconds to conserve the batteries. If set video length higher than 30 seconds, e.g. 60 seconds, the max recording length at night keeps 30 seconds.)
Working Mode
Motion detection or Time Lapse
Max. Pixel Size
24MP
Lens
F=1.6, FOV=63°, Auto IR-Cut
IR Flash
90ft
LCD Screen
2.4" Color screen
Keypad
6 Keys, 1 Power switch
Memory
SD, SDHC or SDXC Regular memory card (Not included), max capacity 128GB
Picture Resolution
24MP, 20MP, 16MP, 8MP, 4MP, 2MP
Video Resolution
1296P@20fps, 1080P@30fps,720P@30fps
Video Format
MP4/MOV
Video Compression
H.264
PIR Sensitivity
High/Normal/Low
PIR Sensing Distance
90ft (Below 77°F/25°C)
PIR Sensing Angle
Total 120°(while side motion sensors enabled)
Central zone: 60°, Left side: 30°, Right side: 30°
Trigger Time
Approx. 0.1~0.6 second (0.1s while side motion sensors enabled)
Trigger Interval
0sec.-60min, Programmable
Shooting Numbers
1~5
Video Length
3sec ~ 5min., Programmable

 


(Note: Max 30 seconds at night time to conserve batteries lifetime)
Info Strip
On /Off
Operation Hours
On /Off, Specific working period of time
Password
4-Digit Code
Camera Name
4-Character (A-Z, 0-9)
Time Lapse
1 Sec. ~ 24 Hour
Power Supply
8x1.5V AA Batteries Or External 12V Power Supply with 4.0x1.7mm plug (Not included)
Stand-by Time
8 Months
Auto Stand-by
Auto Stand-by (Surveillance mode) in 5 minutes while no operation in SET mode
Low Battery Alarm
8V - Low Battery (Batteries die)

 


9V - Night vision is unavailable in low voltage(Almost die)
Interface
Mini-USB, Regular SD card holder, External Power (DC 12V/1A, Plug 4.0x1.7mm)
Mounting
 Strap, Tripod Base (1/4-20)
Waterproof
IP66
Operation Temperature
-4~140°F/-20~60°C
Operation Humidity
5% ~ 95%
Certificate
FCC & CE & RoHS
Product Dimensions
6.1 x 4.4 x 3.0 inches
For more details, please click to download the camera manual.
NOTE:
The power time depends on the quality of batteries. If you take or record many pictures/videos in a short time, the power will fall out quickly.
What's in the package?
You will find into our Blaze Video package, your: 5-Pack Game Trail Cameras for Animal Deer Observing & Home Security 24MP Photos 1296P Videos Waterproof Motion Activated Waterproof | A262
It come with:
x5 Advanced Green Forest Trail Camera(s)
Instructions Manual - in English
Mini USB cable
x5 Strap(s)
Not included:
More questions about our Camera, go to our Technical FAQs
---
When to use your Trail Cameras ?
Our Game Cameras can be used in many cases due to their highly flexible specifications: powered by battery, waterproof and best-in class camouflage. So feel free to use them everywhere and everytilme you need them.